Official Website for Wearyrains (aka PixelatedInkBottle/PIB)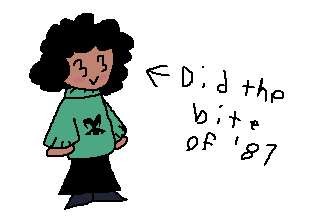 sdfsdfiomsdfioOMSDFIMSDFMIO

Hey! Thanks for stopping by! \3v3/
My name's Wearyrains! I'm a young adult artist, writer, and just general hobbyist. My main trait is that I jump around from idea to idea and seem to be allergic to consistent commitment to any creative investment. I do have a strong passion for creating things though, and it's something I hope to share with you all.
The purpose of this website is to just try my hand at it; I love websites and especially the sheer unfiltered nature of them from the late 90s and 2000s, so I kinda thought this would be a good method of helping me not worry so much about everything I want to do.
If you're interested in the tomfoolery I may post, then I'm glad. :> I'm just here to vibe and make things.
= Content/Trigger Warning =
Although I do a lot of wacky stuff, I do also tend to do 180s and write unrelated stories that are considered Horror. These works are intended for mature, adult audiences only. While I will do my best to keep these works separate from my less grim projects, please note that this is a genre I do enjoy writing in. If that makes you uncomfortable or possibly upset, I understand. Please take care of yourself. Your health is much more important. :>
= Other Socials =
[deviantArt] [Tumblr] [YouTube][Itch.io]
[Consider buying me a Kofi, if you'd like!] Thank you so much for your support!!!! 3v3
Special Thanks to Sadgrl's Layout Builder this website's host, Neocities, and you!
= Additional Credits =